A PROVEN EFFECTIVE AND EFFICIENT METHODOLOGY TO ERADICATE MICRO-ORGANISMS, BACTERIA AND VIRUSES PRESENT IN YOUR SPACES, INCLUDING SARS-COV-2 (COVID19)
WITH BIO-SCAN® 3D, SAVE IN TIME AND IN EFFICIENCY BY DISINFECTING ALL YOUR SPACES IN JUST A FEW MINUTES !
Bedrooms, offices, meeting rooms, waiting rooms, classrooms, gymnasiums, reception hall, restaurant rooms, clothes shops, leisure clubs, sports clubs, etc.
BIO-SCAN 3D is an economical and ecological solution entirely thought out and designed to disinfect any type of surface, from floor to ceiling, and also eliminate viruses and bacteria present in the treated space.
BIO-SCAN 3D is an ultraviolet (UV-C) surface disinfection system. Light and mobile, delivered on casters, it is very easy to handle and move. Thanks to its remote control, the start-up is done remotely.
All surfaces can be disinfected, without side effects or degradation of your living spaces and working spaces.
Efficient and economical, BIO-SCAN 3D is the best solution on the market to disinfect your spaces !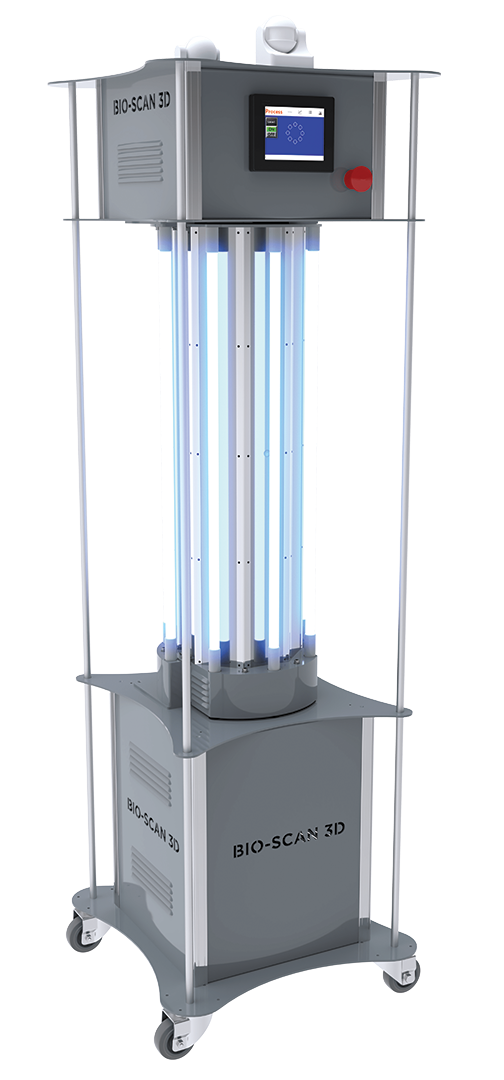 How long does it take to disinfect a room with BIO-SCAN 3D ?
(*) based on an empty circle room (wall disinfection). The effective time of disinfection depends on how the room is shaped and furnished.
Tested according to the AFNOR NF T72-281 standard for airborne surface disinfection (French standard which is the benchmark in Europe)
Eliminates at least 99.99% of micro-organisms, bacteria and viruses (including the SARS-COV-2 responsible for the Coronavirus)
No chemicals needed, ultraviolet disinfection is sufficient on its own
No side effects on health
Practical and ergonomic, it is adapted to all kinds of surfaces and spaces
Easy to use by anyone thanks to its programmable mode and remote control for remote start-up
Secure thanks to a sensor that detects any human presence in the room and cuts off the radiation from UV lamps if necessary
Designed and made in France
Reasonable acquisition price for rapid amortization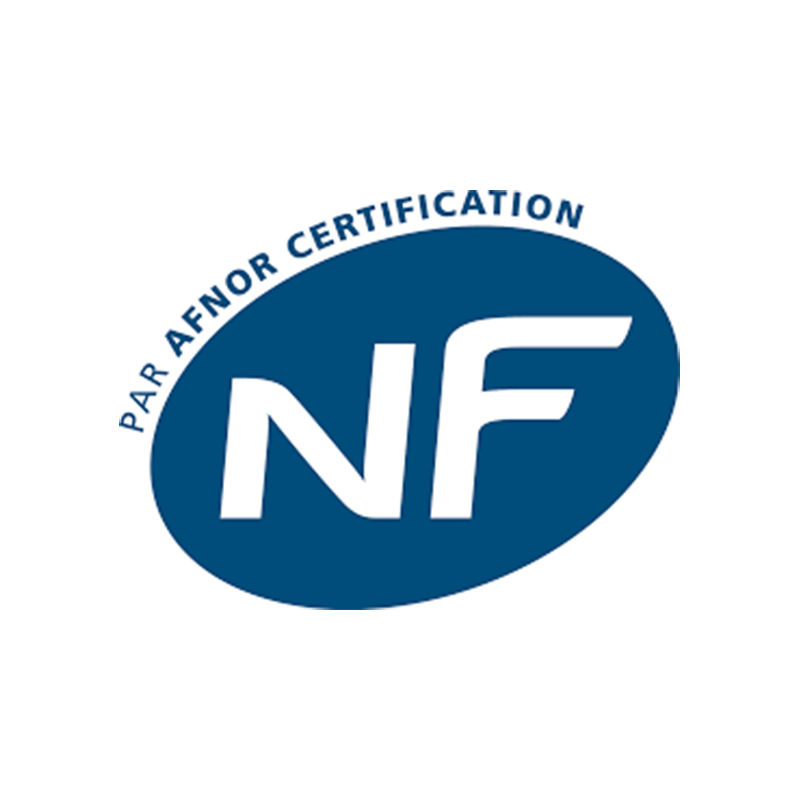 BIO-SCAN® LIGHT: THE IDEAL SYSTEM FOR SAFELY DISINFECTING ANY SURFACE IN TOTAL SAFETY!
BIO-SCAN Light is an innovative french system for surfaces disinfection by ultraviolets (UV-C). Easy to use, very handy, this device can treat all types of surfaces (small and medium surfaces, equipment, utensils, objects, etc.).
BIO-SCAN Light is certified to AFNOR standard NF T72-281 by 2 independent laboratories. It destroys 99,999% of bacteria and 99,99% of viruses, including SARS-COV-2 (Covid-19).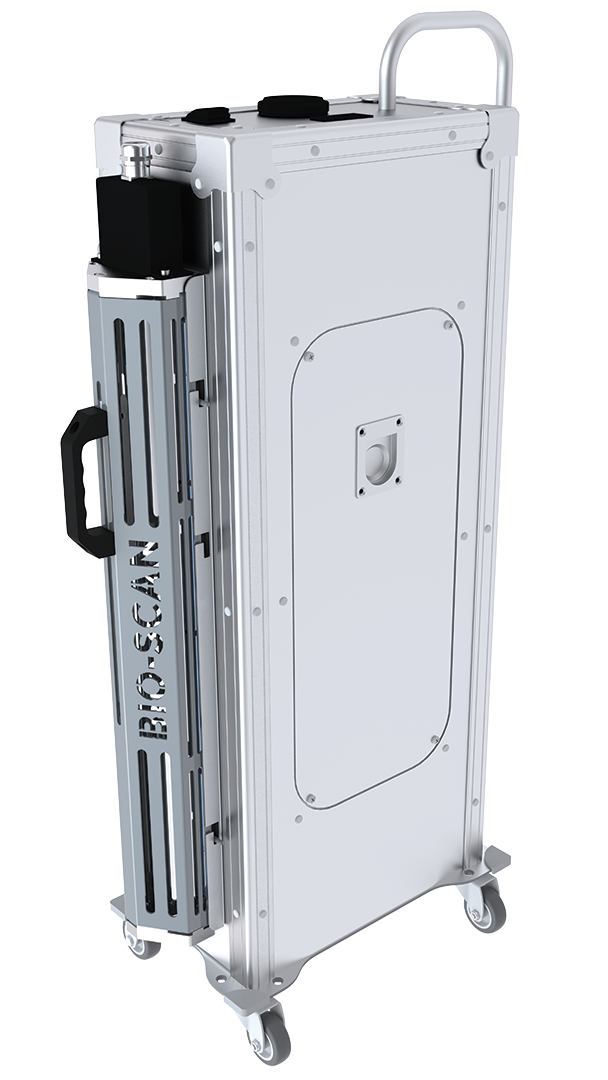 BIO-SCAN® LIGHT, AN IDEAL UV-C DISINFECTION SOLUTION SUITABLE FOR MANY SECTORS OF ACTIVITY AND USE CASES
Communities: nurseries and schools, libraries and medias libraries, sports halls, etc,…
Health sector: hospitals, clinics, nursing homes, medical, dental and physiotherapy practices, ambulances, … Download the file >> here
Shops and public places: restaurant rooms (tables, chairs, buffets, etc.), bedrooms (furniture, curtains, safe, switches, handle, etc.), reception desk, elevator, checkouts, changing rooms, showcases, cloakrooms, etc.
Maritime sector: dashboards, passenger cabins, public living areas, navigation instrumentations, … Download the file >> here
Commercial sector: cash registers, counters, fitting rooms, showcases, cloakrooms,…
THE ADVANTAGES OF BIO-SCAN® LIGHT: A CERTIFIED PROCESS WHOSE EFFICIENCY IS PROVEN, INCLUDING ON SARS-COV-2
Certified process with demonstrated efficacy against SARS-COV-2 (Covid-19)
An ultra-rapid treatment time of a few seconds for effective disinfection of all your surfaces !
A practical and complete concept : the transport case with thermoformed foam supplied with the BIO-SCAN allows you to carry it everywhere. For added convenience, a trolley is available (an option with BIO-SCAN Mobile). We also provide the electrical box with hour meter, the various power cords, one mask and a pair of protective gloves.
An ergonomic and easy-to-use solution thanks to its adjustable handle. BIO-SCAN Light can be used and handled very easily by anyone.
A disinfection process that does not require the use of chemicals for environmentally friendly disinfection, without side effects or health risks.
Economical, the purchase price of the BIO-SCAN Light is very reasonable for rapid amortizaton !

TEST DATA & CERTIFICATIONS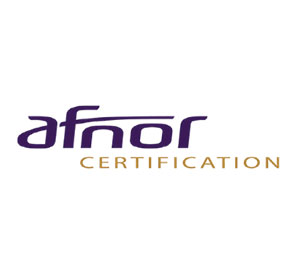 The virucidal and bactericide nature of the UV-C surface treatment products is recognized according to the NF T 72-281 AFNOR (Official French National Norms Organization) standard.
Moreover, the CEMIPAI (a laboratory from CNRS – National Scientific Research Center in France) tested Bio-Scan against COVID and concluded it was very effective on the SARS-CoV-2 responsible for Covid-19 (more than 99,9999% of virus inactivated).
For further enquiries, please email us